This Travelodge location @ 2830 Las Vegas Blvd, in Las Vegas Nevada is to be given a very wide Berth.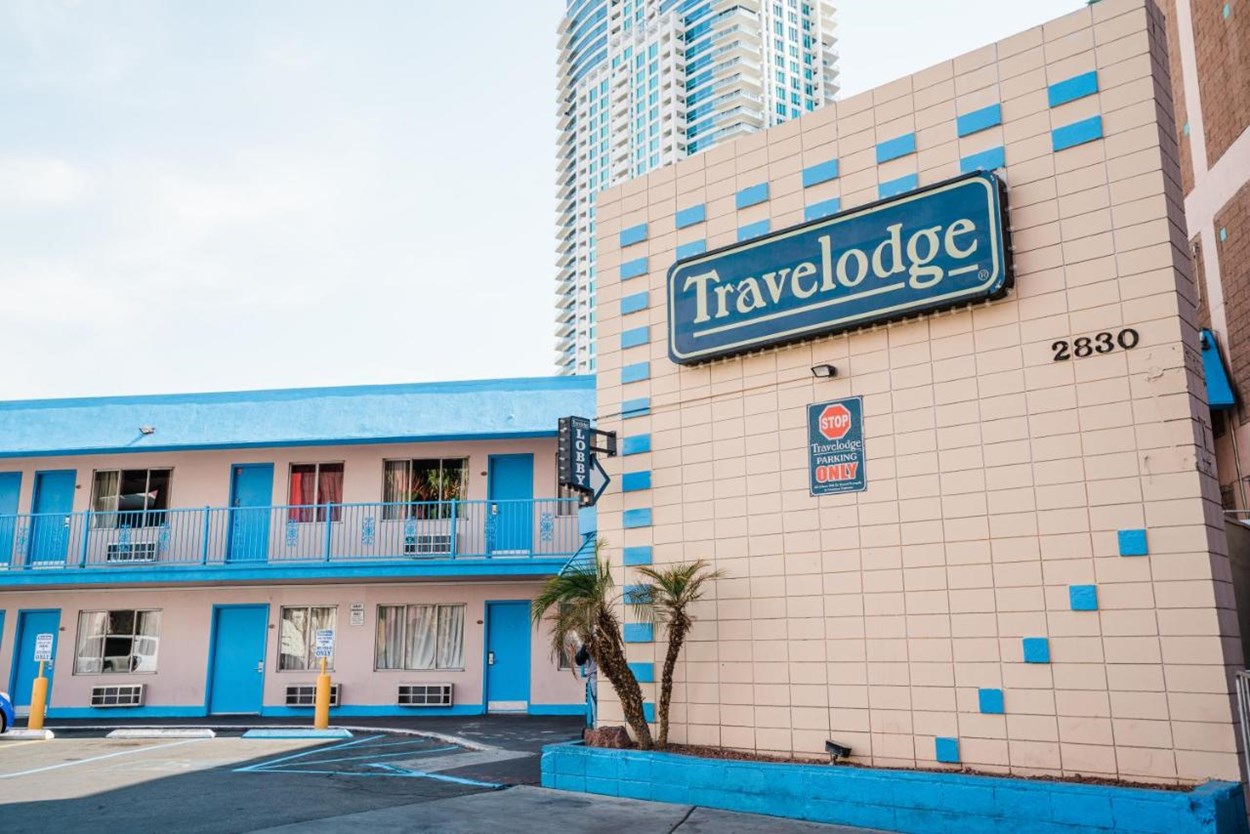 (The above photo is the photoshop version of the property. When you set foot onto the property how dirty it is becomes evident on the instant).
If you value your life, general safety and personal belongings (both in the room and outside in the car) take a pass on this particular location. Don't be beguiled by fake reviews that they themselves have posted. I'll lay it all out for you (over the next 2 years - I'm making it a pet project). I'll forward it to corp management, and also post it on Facebook and social media so that visitors to Las Vegas know to stay clear of this Travelodge.
On September 18, 2022 (a Sunday).
Upon setting foot onto the property I got a very bad feeling that this place gives off (an incredibly bad vibe) but I had purchased the room for 2 days prepaid via a 3rd party (Priceline.com) - non-refundable so I'd painted myself into a corner. If you've ever checked into a motel that gave you the absolute creeps - this is the place - and this was in broad daylight.
The motel staff is as dangerous and destructive as what transpires outside the property (which is directly adjacent to Circus-Circus Casino and Hotel). Their collective manner (they purposely wear no name tags) will leave you staggering backwards how utterly vile their collective behavior is.
They wear no name tags because it's how they have been allowed by Travelodge executive management to operate in this fashion. One of the women is a heavyset, 5 ft 3 inch Latinx woman with multi colored hair, the other has dwarfism (she's Latinx, too, and is approx. 4 ft, 9-10 inches - black hair, very long nails painted a bright orange color. She houses a person nastiness that's off the charts).
Check-in time is supposed to be 3:00 pm I got there at 3:30 and it was a line of people outside that had been waiting since 12:00 to check, the temperature was extremely hot plus 100 degrees. When I made it into the lobby there were about 12 people in the lobby and a young Latinx gentleman was talking to another gentleman about how long he'd been waiting - since 12:00 pm to check in.
After waiting about 45 minutes he got to the front desk and was informed by this nameless, nasty heavyset Latinx desk clerk that he would need $100 cash deposit that he didn't have - since he'd planned to pay for the room on his card. Being slightly upset about how long he'd waited to find that out he voiced his concerns and as he was leaving this desk clerk woman told him, "don't mumble
under your breath say it to my face" (the front desk camera will attest to this ugly interaction she precipitated) he got about 15 feet away and said, "ok, bolted for the door to retrieve a weapon from his car, the Latinx woman at the desk (who is purposely wearing no name tag, in the next minutes it comes clear why she wears no name tag). dashed in the back room and jumps on the phone.
As he goes to his car and reaches under the seat a woman in his car calms him down and makes him get in the car - and he leaves, were it not for her interceding there would have been an
active shooter
scene with people dead - of this I'm 100% certain. The vile attitude they all exhibit is certain to eventually have a
very negative repercussion
. And if that Latinx guy ever goes to ending it all (self murder) she's gonna
be the first person
on his
hit-list
(that's how that works when they - active shooters goes their - they go murder the person(s) with whom they hold a deep grudge and she'll certainly be one of them - he went to his car to get a gun and murder her in front of almost a dozen people at 4 in the afternoon - not 100 yards from a police sub-station, so what did that say for us as witnesses to murder?). Again, were it not for his female passenger the motel would be the site of a homicide(s). I once heard a clinical psychologist say in regards to active shooters that, 'hurt people, hurt [other] people' - they do it for the slightest indignities that us healthy minded people move on from, they hole onto grudges feeling shattered and eventually act out as a form of person redemption.
I watched as she did everything humanly possible to offend him - then reiterated it for her own satisfaction. The British owned company - Travelodge couldn't possibly want people like these women picking fights with guests - I find that impossible to believe, so I'll be forwarding this link to them and all the 3rd party vendors as well that book rooms for them - they're all a fiscal liability hazard (lawsuits) if such occurs and the front desk videos are examined for what transpired - I so wish I'd left for what they were to do to me the following day and ate the $119.
When he bolted to his car this vulgar woman (who'd 20 mins earlier verbally assailed two other guests btw) after setting on this dangerous situation stayed in the back to lock the door now concerned for her own personal safety after entirely provoking this event.
Again, I've prepaid the room for 2 days via Priceline (considered a third party provider) under a non refundable agreement so leaving now leave me $119.98 the poorer - but I see this is the wrong place to check into.
This dangerous incident happened at approximately 4:10 pm.
The same young lady with another guest that had already prepaid for his room said the very same thing about the cash deposit to which she said to him no rooms were ready but he could come back at 5 pm (after he'd already waited since noon) if not he could have a dirty room, she could give him a dirty room, she repeated it several times.
This dark and potentially deadly situation is but the start of this nightmare.
What happens to me on September 19, 2022 (a Monday) is one for the books, leaving me approx $760 poorer.